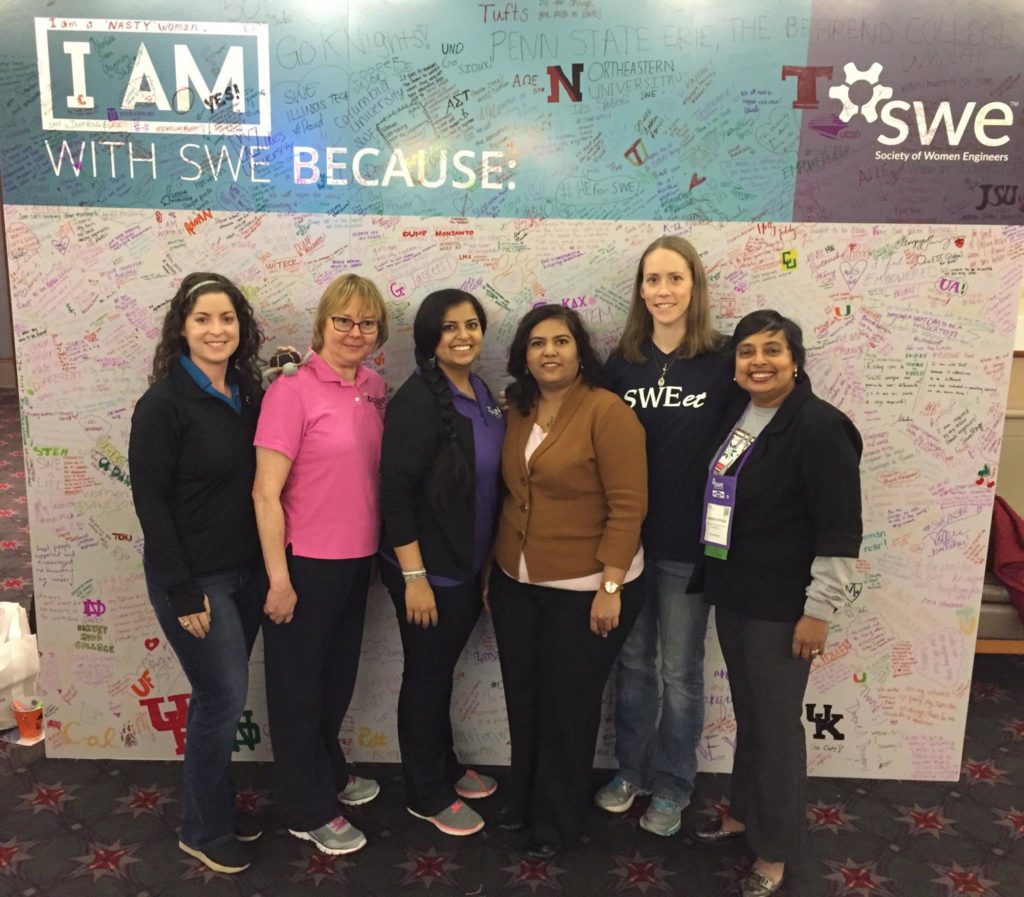 Last week, sixteen Dallas SWE members experienced SWE's WE16 Annual Conference in Philadelphia, PA! A record-breaking 11,000+ registrants were in attendance at the conference's professional development speaker sessions, career fair, and Saturday outreach event, Invent It, Build It. See the sections below to read more about our experiences at the conference! You can also view all of our photos at our Facebook album here.
The conference theme was, "LIfe's Variable, SWE's Your Constant." Many of the attendees personally identified with that statement, as their involvement with and friends in SWE span multiple jobs, locales, and years! Read below for their personal reflections on the conference.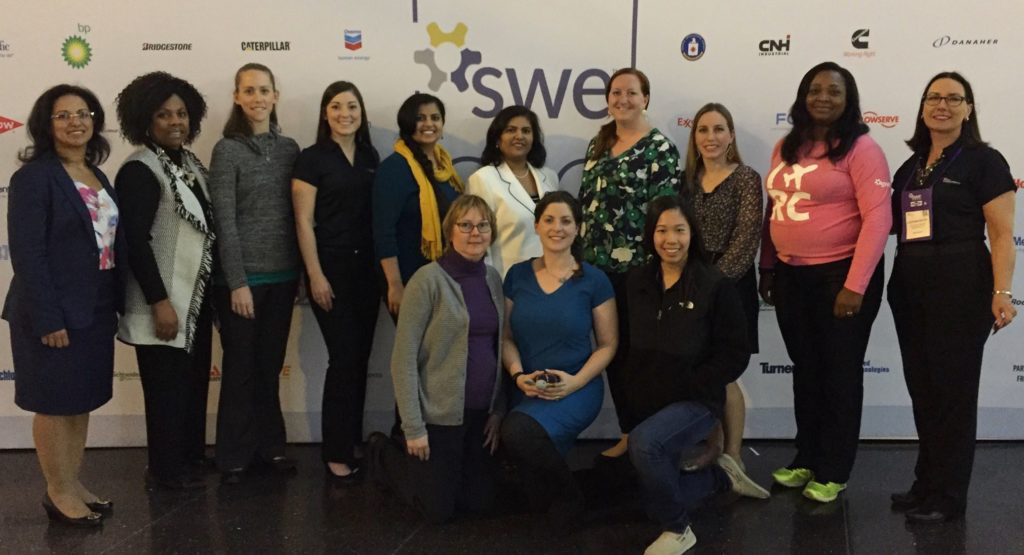 Awards
Dallas SWE brought home four large professional section awards! Kudos to our FY16 leadership team and Awards Committee for securing every section award for which we applied: amazing!
Outreach Parent and Educator Program Award: for the third year in a row, we were recognized for the excellence of the adult sessions at our signature STEM Outreach event, Design Your World.
Outreach MOU Partnership Award: for our FY16 series of Design Your World events at SMU and UNT with support from Girl Scouts of North Texas.
Membership Recruitment Program Award: for our professional development and social program offerings, membership recruitment events with local companies and universities, and online communication best practices.
Motorola Foundation Multicultural Award: for the diversity of our membership in culture, age, career stage, and engineering discipline, and for program partnerships with other local diversity organizations like the National Society of Black Engineers and the Society of Hispanic Professional Engineers.
Dallas SWE member Stephanie Watts Butler, Ph.D from Texas Instruments received SWE's Achievement Award, the highest honor SWE bestows each year. She gave a very insightful and inspirational keynote speech at Friday's award banquet. You can find more about her in our October Member of the Month post.
Dallas SWE and SMU leadership team with two Outreach awards for our Design Your World – STEM Conference for Girls
Professional Development
Four of our members took the stage as speakers or panel moderators during the following WE16 professional development sessions:
Cherrie Fisher – Epic Careers in Big Data and Analytics
Nandika D'Souza, Ph.D – Strategies for TRUE Inclusion in Engineering: the World is in Your Workplace.
Kate Van Dellen – Confronting Workplace Sexism
Stephanie Watts Butler, Ph.D –  Stand out! How to Pitch Yourself and Own the Career Fair
SWE Governance Updates
Dallas SWE Leaders were also in attendance at each of the SWE business meetings (Membership, Town Hall, and Senate meetings) to ensure we have the latest available information on SWE's Governance change initiatives. At a high level, the Regions have been instructed to create and approve a plan to dissolve their finances and leadership structure by the end of FY17 (June 2017), with the goal of implementing the approved plan during FY18. In FY18, we will no longer
For the great majority of our members, your relationship with SWE as a whole will remain unchanged. However, for your SWE section leaders, these changes will require us to make major changes to the ways we interact with SWE headquarters and how your interests are represented to the Society's top leadership and governance bodies. We will also need to maintain closer, more frequent contact with our local collegiate sister sections to ensure they are getting the support they need to develop mentor relationships with professionals, enhance their professional development skills, and host successful events.
While not everyone was enthusiastic about the information shared at WE16, our section leadership team is optimistic that those in charge of planning and executing these changes have the best interest of SWE at heart and that our feedback is being heard and considered during this process. SWE has set up a special website to share documentation on these concerns. The information presented at WE16 should be available there soon. If you have questions or concerns on this topic, you may email us at dallas.swe@gmail.com or contact HQ directly at governance@swe.org.
WE17 Location Announcement
Next year's SWE Annual Conference (WE17)will be held in Austin, TX Oct 26-28, 2017! Mark your calendars now: this is so close to home we expect a big showing from our Lone Star State!!
Personal Reflections
Seeing all the awards that the Dallas SWE section won makes me want to get more involved at the local level. With the effort to sun-set Regions, reaching out to our local sister sections (both professional and collegiate) will be more important. I also got to participate in my first senate meeting. It was amazing and powerful to be part of the group that can impact organizational change.
~ Kate Van Dellen
I was impressed with the large attendance at this year's conference, I think this is a testament to the quality of the sessions and opportunities at the career fair. I enjoyed being able to return as a recruiter for Texas Instruments and give back to the conference that taught me so much as a student! It was energizing to talk to students and professionals at various stages of life and to know that I had a connection (SWE) with each of them. Finally, the Awards banquet was very motivating and inspiring. It was yet another reminder of SWE's legacy and the impact it's had on so many people.
~ Amber Scheurer, Dallas SWE FY17 Secretary
As a first time SWE Annual Conference attendee, I was blown away by the incredible networking and career development opportunities at WE16. The seminars and key note speakers were very useful and relevant to me. Chevron's Presentation on Data Analytics was eye-opening as I did not expect to see data analytics so widely used in the Oil & Gas Industry. I took advantage of the career connections sessions with a leadership coach, Barbara Taylor, who provided a unique perspective on the strategic networking, mentor programs, executive presence, communication etc.

~Shilpa Nagaraj, Counselor for Collin College SWE
The Award Banquet was great: everyone was so kind and it felt wonderful to share the night with all in attendance. However, my biggest memory of WE16 was meeting SWElebrity Alma Kuppinger Forman, a SWE founder from Pennsylvania! I felt like the technological innovation we need most for conference is to clone ourselves so we can see all the fantastic talks going on simultaneously!
~ Stephanie Watts Butler, Ph.D, SWE Achievement Award recipient
As a veteran SWE Annual Conference attendee, I am always energized and inspired by seeing old friends, meeting new ones, and generally being surrounded by the best and brightest women engineers and mentors there are! WE16 was no exception. This year I was particularly inspired by the concern and attention being given to our Society's Governance structure. In a time where society at large behaves poorly when confronted by conflict and controversy, SWE is a great example of an organization where differing voices are heard, acknowledged, and considered with respect and deliberate review. I look forward to being a part of SWE's future: one reason I became a Life Member this year!
~Shelley Stracener, Dallas SWE FY17 President
Being the only female in male-dominated industries for many years makes it hard sometimes to have the sense of belonging in spite of your achievements. Attending the SWE conference this year gave me the opportunity, for the first time in my career, to get to know accomplished women in technical and leadership roles similar to mine. Although I love my career, the one thing I missed was having the support of women who share my same experiences and ambition.  Each one had their unique perspective and were all willing to share, connect and support one another. This conference  made me more proud to be part of an international women engineers community.
~ Amani Maurice
I love attending SWE conferences as it allows me to spend a few days focusing on my own professional development. Many of the sessions cover more basic material that serve as excellent reminders, but every so often you learn something totally new. One such session was "Teamwork 101: How to Play Nice with your Teammates and Create Better Results". In that session, I learned that an absence of trust is the foundation of a dysfunctional team. To build up that trust, the leader of the team must be the first to demonstrate vulnerability. Another way in which teams struggle is when there is a lack of commitment from those at the table. On this point I learned one of my new favorite phrases: "There is a difference between buy-in and consensus.". Everyone doesn't have to agree, but everyone must buy-in to the decision. The takeaways from this session are extremely applicable to my work in cross-functional teams and put me on a path to success.
~Pam Duffy, Dallas SWE FY17 Section Representative
I wish all our section membership could have been at Celebrate SWE with us to see Dallas SWE winning four section awards. We all know Dallas SWE is awesome and the awards recognize how special a team we have. It is a testimony to the great leadership team and committees we had in place in FY16, Thank you to all the members who made this possible! I volunteered at the WE16 Information Desk and received a substantial discount on conference registration. Anyone wanting to reduce their attendance costs should consider volunteering at WE17. There are lots of volunteer opportunities and it is a great way to connect with other attendees.
~ Barbara Read, Dallas SWE FY17 Section Representative
With an aim of bridging communication between immigrant and non-immigrant engineers, I presented a workshop focused on the central human need for people and their contributions to be accepted. We examined the impact of socialization during teen years on the 6 Hoffstede dimensions. I also supervised the Undergraduate Rapid Fire Sessions. Other than that I attended workshops, my favorite of which was on male advocates and importance and pragmatism of being politically savvy while raising gender-based issues at meetings.  From a Dallas SWE perspective, having transitioned out of managing the Design Your World conferences, it was validating to see the significant national impact the effort has made validated through recognition for our Dallas section.

~ Nandika D'Souza, Dallas SWE FY17 Executive Vice President 
 Since the end of WE15, I waited anxiously for WE16 in Philadelphia and it did not disappoint! Other than the conference being in such a fun and historic city, it was jammed packed with sessions and I enjoyed several, with topics ranging from leadership to conflict management to technical talks to personal and professional development to SWE business. As usual, catching up with SWEsters from various sections, regions, and even my alma maters is a blast. WE16 proved to be another amazing opportunity to recharge and get motivated to be a better version of myself, professionally, personally, and in SWE! Until WE17 in Austin, TX…
~ Zaineb Ahmad, Dallas SWE FY17 VP of Membership