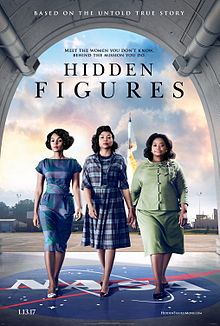 As a show of our appreciation for their loyal support, Dallas SWE members were offered the opportunity to attend a special pre-release screening of Hidden Figures last night at the Angelika Film Center in Dallas. We filled all 40 reserved seats within 48 hours! Everyone was really excited about this movie and it did not disappoint. This is the inspirational story of women computers who calculated trajectories for NASA to help put the first American in space and, eventually, on the Moon. This movie has math, engineering, computer programming, the epic Space Race, a love story, and the fight for civil rights all rolled up into one fantastic film!
We are so thankful that 20th Century Fox included us in this screening event and for the women who overcame past struggles so we don't have to fight the same battles they did. We are continually inspired by how far we've come in just a single generation and are hopeful for all the things we can do TOGETHER in this generation!
Hidden Figures opens in Dallas on Christmas Day at the AMC North Park only, then releases everywhere January 6, 2017. We'll plan another group viewing after the first of the year! Use #HiddenFiguresLive to share this film with your friends on social media.
If you just can't wait that long, check out the film Top Secret Rosies, available for DVD rental on Netflix or for streaming / purchase via Amazon. This documentary tells the story of women computers who calculated ballistic trajectories for WWII soldiers and includes interviews with the Rosies themselves! It's a moving film, and there's a book app available on iPad that goes more in-depth into the historical records associated with these stories.