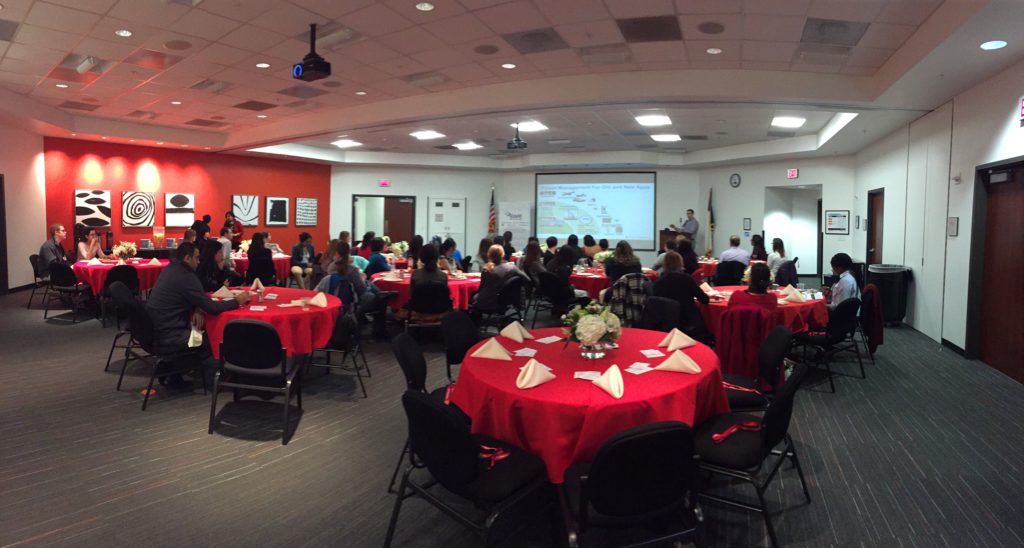 On Tuesday, January 17th, Texas Instruments hosted over 60 guests to dinner, presentations, and a tour at their headquarters in Dallas for the Dallas SWE January Professional Development Event. This was a great chance for employees from the TI Women's Initiative Network and members of Dallas SWE to meet with one another.
The presentations began with an overview of TI, its diversity networks, products, and locations around the world from Fran Dillard, Director of Diversity and Inclusion. Next, Dallas SWE Secretary and TI employee Amber Scheurer introduced the guest speaker, Jeff Morroni. He is currently the Worldwide Director of Power Management R&D for Kilby Labs, the Texas Instruments corporate R&D group. Jeff explained some of the biggest trends in power management and how his organization is working to find solutions for the tough challenges that lie ahead. He did a great job of making the topic relatable and understandable to TI employees and Dallas SWE members alike.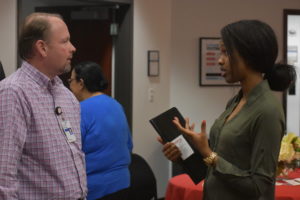 Following Jeff's presentation, Analog Staffing Manager Randy Wheeler spoke to the audience about careers at TI. Dallas SWE President Shelley Stracener gave an overview of local opportunities for professional development, community outreach, and award recognition through SWE. She also highlighted the success of this year's SWE Achievement Award Winner, Stephanie Watts Butler, Ph.D., P.E., a Technology Innovation Architect at Texas Instruments. You can read more about her inspiring keynote speech at the WE16 Award Banquet in October in the most recent issue of SWE Magazine!
The presentations ended with an overview of the Innovation Center from Amber, and a self-guided tour of the 9 kiosks. Dallas SWE would also like to thank the additional members of the TI event planning team that helped make the event such a success: Kathy Glover, Rebecca Marshall, & Osman Khan.