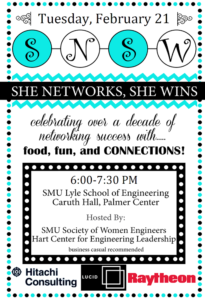 Our sister SWE section at Southern Methodist University has hosted She Networks, She Wins for more than ten years and we are pleased to be a continuing partner in their success! This is SMU SWE's biggest event with alumni, students and corporate sponsors getting together to network for the night. Heavy hors d'oeuvres will be served and parking is available in Binkley parking garage for $1/hour. Dress is business casual.
When: Tuesday, February 21, 2016, 6:00 – 7:30 p.m.
Where: SMU, Lyle School of Engineering, 3145 Dyer St, Dallas Tx, 75225
Caruth Hall (4th Floor, Palmer Conference Center)
Campus Map
Cost: Free!