With our Member of the Month program, Dallas SWE seeks to recognize some of our non-officer members whose technical contributions, leadership accomplishments, or SWE volunteer service are particularly noteworthy. If you would like to nominate a Dallas SWE member for his/her contributions, please email us.
---
Our Member of the Month for April is Kim Concillado. Kim is a controls engineer at Wynright Corporation and received her B.S. in Electrical Engineering from The Ohio State University. She has been involved in the automation industry since her first internship and enjoys the fast-paced nature of the career. So far, she has developed human interface applications, created 3D system simulations and worked extensively on programmable logic controllers.
Kim's interest in engineering emerged from a high school experience as the only female in the local round of the annual Ford/AAA Auto Skills Challenge. Her enjoyment of challenging atmospheres motivated her choice in electrical engineering, but passion in the subject only took off after joining a collegiate engineering design team that concepts, builds and races electric motorcycles: Buckeye Current. The leadership and creativity that blossomed from that group motivates her interest in STEM outreach. Providing access to challenging and interesting experiences for students K-12 and beyond are integral to the growth of diversity in engineering.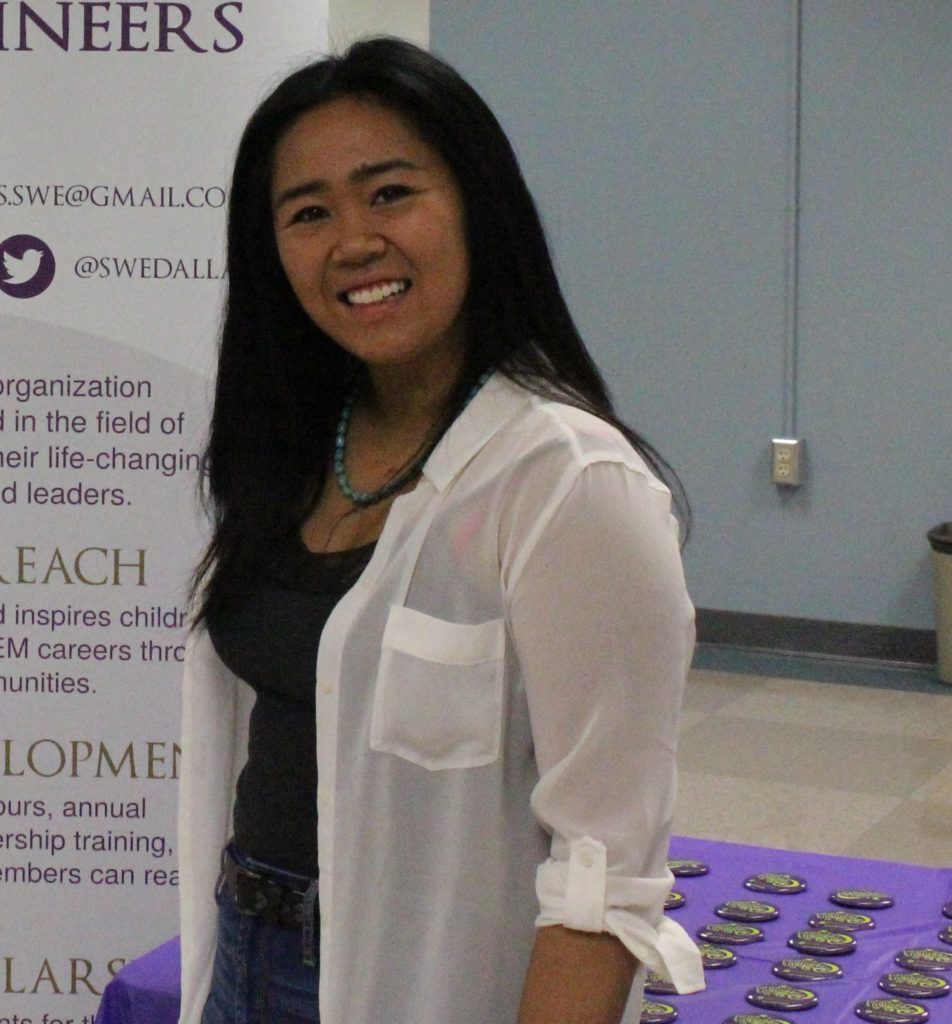 Kim joined a collegiate chapter of SWE at Ohio State but became considerably more active as a professional, participating in women in engineering panels including Illuminate STEM's Self-eSTEM event and the spring 2017 Design Your World career panel at SMU. Her favorite experience to date is inviting students to explore circuit design at the Dallas ISD STEM Expo. In addition, her skills in social media can be found on Dallas SWE's Facebook, Instagram, Twitter and LinkedIn pages. Kim is relatively new to the Dallas area, but found Dallas SWE to be integral to her acclimation. Outside of SWE, Kim spends her weekends caring for tigers, lions, bobcats and cougars as a volunteer and strong wildlife conservation advocate at In-Sync Exotics. She is also passionate about child abuse prevention and frequents the Dallas courts as a trained advocate of Dallas CASA. She can also be found on the University of Texas – Dallas campus as a Panhellenic alumni advisor for the Delta Zeta chapter.
"Dallas SWE welcomed me with open arms. In a time when I was new in town and didn't know a soul, I felt like I belonged."