With our Member of the Month program, Dallas SWE seeks to recognize some of our non-officer members whose technical contributions, leadership accomplishments, or SWE volunteer service are particularly noteworthy. If you would like to nominate a Dallas SWE member for his/her contributions, please email us.
---
October's Member of the Month is Zaineb Ahmad. This is especially timely since today marks a full year since she started our Member of the Month program as our FY17 VP of Membership! Thanks for your dedicated service to Dallas SWE, Zaineb!
Zaineb started her career with a passion for STEM and the will to positively impact the world around her. Though originally on a path towards medicine, she found her true calling in engineering, exploring the worlds of biomedical, mechanical, and finally, software. She currently holds a Business Analyst position in the Healthcare IT industry. She has a bachelor of science in general science and a bachelor of science in biomedical engineering, from Birmingham-Southern College and Washington University in St. Louis, respectively, as well as a master of science in mechanical engineering, with a focus in biomechanics, from UAB.
Zaineb currently resides in Dallas, Texas, where she remains dedicated to engineering excellence. She is actively involved in the Society of Women Engineers (SWE) and is engaged in the community. She often participates as a panelist and/or mentor, advocating engineering as a profession to young girls and women, explaining the diversity within engineering fields, and providing a positive role model. She tutors and mentors numerous female high school and college students interested in or working towards STEM degrees. As a professional member of SWE, she serves on several committees at the section, region, and society levels. Most recently, she served as Dallas SWE Vice President of Membership in FY16-17. She actively participates in Design Your World, a STEM conference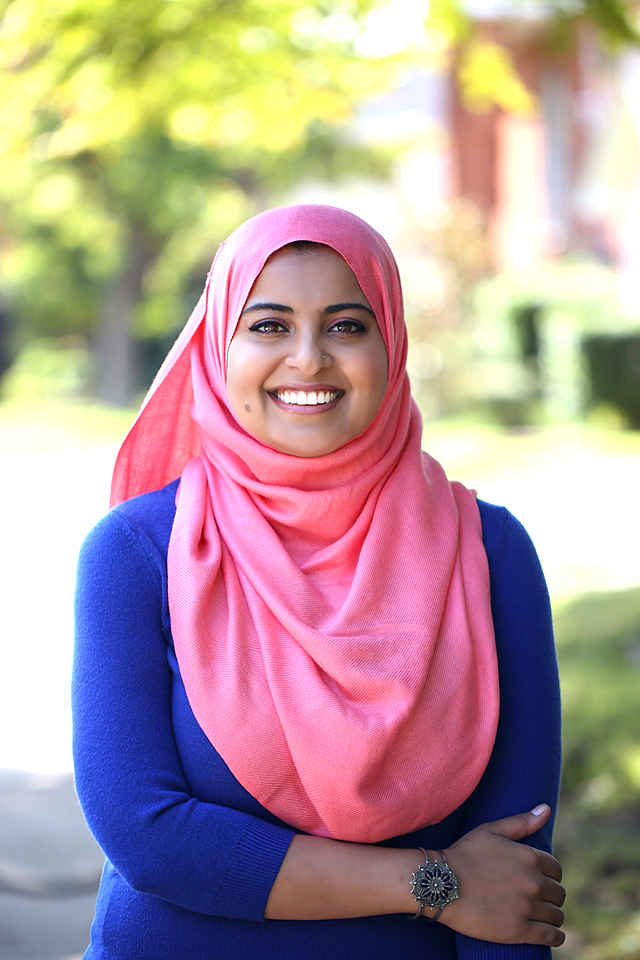 for girls, where she has designed and led a biomedical engineering bone-fracture activity, coordinated a mechanical engineering activity involving racing rollercoasters, organized the engineering fashion show, and participated in the parent/educator panels. She was recognized by Dallas SWE as Distinguished New Engineer for FY16 and was honored as one of 45 Engineers Making a Difference by the UAB School of Engineering for the school's 45th anniversary.
"I joined SWE as a way to engage with the engineering community, network, and enhance my professional skills. SWE more than met those expectations, while fostering a new passion for STEM outreach. The unexpected benefits are the amazing, lifelong friends I made, from my first collegiate meeting to the lovely ladies of Dallas SWE. SWE is a network, a support system, and a community."