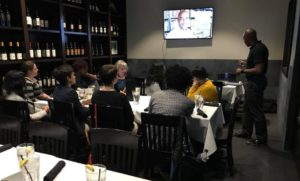 On Tuesday, October 17, Dallas SWE members and guests met at Fernando's Mexican Cuisine and enjoyed a professional development presentation by Melerick Mitchell. Melerick challenged us to be identify our passions and values, and use them to set "audacious goals" in our careers. Then he encouraged us to take action to achieve those goals by focusing on growing, learning, creating, and giving back each day. Being intentional about planning our own career paths and applying careful introspection to our own actions is the best path to long-term success!
Melerick gave us plenty of opportunities to share our thoughts and goals with him and other attendees. When asked about his audacious goal, he said he wants to reach 250,000 people with his coaching and inspiration! We are glad to be a part of that group and left the meeting with plenty of insights to apply to our own careers.
Check out Mr. Mitchell's book, Kinetic Life, available on Amazon, for his perspectives on these and other topics!