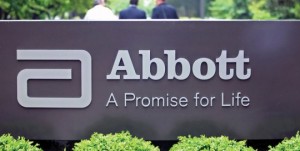 For everyone who could not make it to our March meeting held at Abbott Labs ( Abbott Diagnostic Division) in Irving, we had almost 35 people from both Abbott Laboratories and  Dallas SWE attend the event.  Nicole Koritsaris, Director – ADD Packaging and Mark Krikau, Site Director – Dallas gave the audience a fun filled presentation on Abbott Laboratories, its position as a leading health care company in the global market, and the benefits of working at Abbott.
Nicole gave a review of her inspiring career path, from being an individual contributor in an engineering field to being a strategic leader who drives innovation in the company.  Mark Krikau then explained in great detail the instruments that are designed and built at the Dallas site.  He taught the audience what an assay does and how important blood screening and diagnostic instruments are for medical diagnosis. He used his personal experience to illustrate that Abbott Labs is not just a fantastic place to work, and that  almost every person working here has a responsibility towards creating quality products that enhance the quality of life and alleviate pain for millions around the world. In addition to this, we had a networking session where attendees interacted with each other. The presentation was followed by lab tours led by Abbott employees Ryan Johnson and Trevor Coffman.  They showed the audience the existing instruments and track systems in the market and gave a demonstration of their capability. It was a fun packed event and a great opportunity to learn about the medical device/healthcare industry.
Special thanks to the internal "Women Engineering" team at ADD Dallas who helped me organize and execute this event.  Thank you to all the Dallas SWE members who made it to the meeting.  We hope everyone had a great time!
-Neha Dobhal