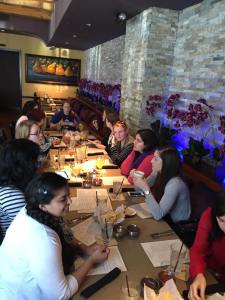 Thanks everyone who came out for Dallas SWE's first Younger Members brunch! Recent graduates from all over the country have relocated to the Dallas area and Saturday met for a tasty brunch at Gloria's in uptown Dallas.
For those who didn't make it, we raffled off two sets of circuit board nail wraps! Congrats to the winners, Amanda Posadas and Kristen Parrish! We have two more sets to raffle off for next time, so save the date for next month.Saturday, January 24th at 11am at Social House in Addison.
If you're interested in being added to the younger members email list, please email Dallas SWE secretary Morgen Schroeder!