With our Member of the Month program, Dallas SWE seeks to recognize some of our non-officer members whose technical contributions, leadership accomplishments, or SWE volunteer service are particularly noteworthy. If you would like to nominate a Dallas SWE member for his/her contributions, please email us.
---
Our August Member of the Month is Tripat Baweja! Tripat is the Discipline Lead and engineering faculty for the Electronic Technology program at Collin College. She is also the Faculty Advisor for the Collin College SWE section. Tripat started her career at Bell Northern Research as a design engineer after graduating from Arizona State University. Later, she moved into academia to foster her love for teaching and raise her family.
Tripat was one of the three people instrumental in establishing the collegiate section of SWE at Collin College, in 2013. Despite facing the challenges of a being at two-year college, she smoothed over the process of membership recruitment, student involvement, and officer transitions over last three short years and quick turnaround of students. With a very small engineering student body, Collin College SWE currently enjoys a membership of +40 paid members and over 200 participants on the college portal.
Tripat has organized various outreach programs including resume workshops, mock interviews, company tours, and company presentations for Collin students and robotics summer camps for area middle school students. She actively collaborates with Collin Robotics Club and Collin North Texas ISSA Collegiate chapter to provide wide array of experiences and industry exposure to Collin students. Under her leadership, three of the four presidents of Collin College SWE have been selected as SWE Future Leaders, providing inspiration to other members. Tripat has been awarded Engaged Faculty Award (2015-2016) and Vision Award (2016-2017) by Collin College for her engagement with the Collin students and contributions to the advancement of the engineering program.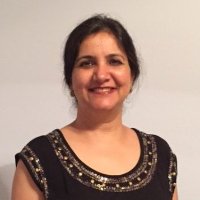 "I've always been very passionate about advancing education, especially STEM education among young girls and women. SWE has opened a unique door for me to reach out to this larger group and equipped me with tools to help encourage my students to experience engineering and technology. SWE has also made a tremendous impact on my professional and personal growth. I am proud to be a Dallas SWE member!"

~Tripat Baweja