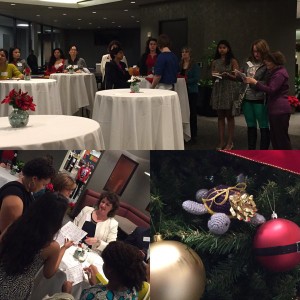 On December 15th , SWE Dallas celebrated the holidays at the Lennox International headquarters in Richardson Texas.  The evening was enjoyed by all with 45 people attending, including SWE professional members, collegiate SWE members, Lennox employees, and guests.
Cherrie Fisher, Executive VP of Dallas SWE opened the event reminding the audience to "Breathe" and enjoy family and friends during the holiday season.  She advised attendees to unplug from daily responsibilities and challenged and encouraged everyone to live in the moment.
Manny Molera, VP of Commercial HR Lennox International, shared the history of Lennox International's partnership with SWE and the importance of diversity and inclusion to foster innovation. Everyone is looking forward to seeing how this mutually beneficial relationship will improve both Dallas SWE's organization and Lennox International's employee resources!
Barbara Read, President of Dallas SWE, reviewed upcoming events, including the SWE Region C Conference which will be held February 5-7, 2016 in Rogers, Arkansas. Barbara also recognized SWE Officers and volunteers who make our programs possible and thanked Lennox for the company's continued support.
Evening activities included a Networking Icebreaker, Door Prizes, and refreshments. The Icebreaker activity was a sort of engineering BINGO card: attendees were encouraged to meet new people and have them sign off on squares where they knew the answers to various technical questions. Collegiate attendees, fresh out of fall semester finals, had a definite advantage for some of the more esoteric trivia!
Later, a Door Prize raffle was held to give away goodie bags and poinsettia plants to 10 lucky winners. At the end of the evening, Lennox presented each attendee with a Lennox International SWE Dallas 2015 Holiday Celebration travel coffee mug.
"The Society of Women Engineers' tag line is Aspire, Advance and Achieve. Their goals are not only for students in college, but also for working professionals to help them achieve their full potential in careers as engineers and leaders. I am incredibly excited that our Lennox team is getting involved with SWE."
~ Jamie Son, Lennox

"This was such a great event hosted by our Lennox partner. I had so much fun! I can't wait to see what the new year brings!"
~ Cherrie Fisher, Dallas SWE Executive VP
SWE is an inclusive organization focused on issues of interest to women specializing in engineering and technical careers. The organization assists companies to advance their women engineers and technologists, achieve their diversity recruitment and retention goals and support their leadership training initiatives.
If you are a Lennox employee, please contact either Amanda Widell or Jamie Son, HR Business Partner (and SWE relationship manager) to find out how you can get involved in SWE! Click here for the Society of Women Engineers website.
This slideshow requires JavaScript.