With our Member of the Month program, Dallas SWE seeks to recognize some of our non-officer members whose technical contributions, leadership accomplishments, or SWE volunteer service are particularly noteworthy. If you would like to nominate a Dallas SWE member for his/her contributions, please email us.
---
Our November Member of the Month is Liong So! Liong is a Senior Project Manager working with City of Dallas Department of Public Works since November 1999.  She has developed capital bond projects from alley groups, bridge repair groups, and complete streets from design and procurement to construction and project closure. Last year (2016) she finished the Cedar Crest Bridge and Gateway project which included a scenic overlook adjacent to the bridge, architectural structures and Trinity new lighting.  The project augmented the Dallas Trinity River Corridor by providing connectivity to the Great Trinity Forest, Trail Systems, and Managed Wetlands. The project was intended to attract business and people to develop, revitalize, and transform the South Dallas Area.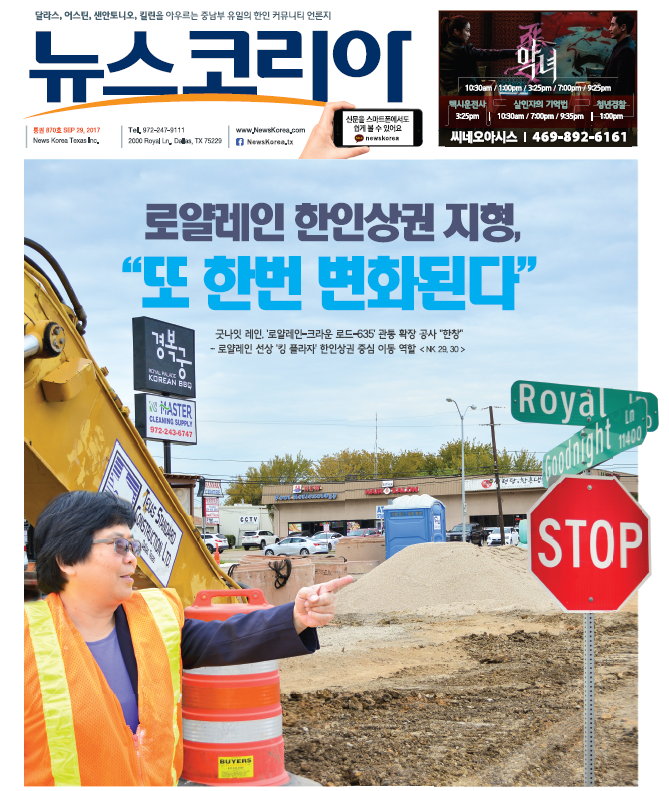 This year, she started construction on another complete street which will open the connection of Goodnight Lane to Interstate 635 in Royal Lane area (Korean Town). Korean business owners and local residents have been so enthusiastic about this new construction; the editor of Korean News sent her an article about Royal Lane on September 29, 2017 with her picture on it, the title and the story was in Korean Language with Chinese characters. As an engineer she was very amused: Liong is of Indonesian Chinese descent, but she did not understand the article, as she could not read it, but she was happy knowing that her picture was there!
Before working at the City of Dallas, Liong worked as a geotechnical engineer in several DFW geotechnical engineering companies.  In 2012 Liong wrote a technical paper, "Field Evaluation of Stabilization in Swelling Clay for Concrete Pavement," about field evaluations and the result of independent laboratory studies of subgrade stabilization of highly expansive clays in Five Alleys (built in 2008) and Korgan Street (built in 2009).  This paper was submitted to and presented at ASCE Texas Fall Conference, 2012 in Fort Worth.
Liong holds a Master in Business Administration (MBA) in Finance from Southern Methodist University (SMU), a  Master of Science (MS) in Civil/Geotechnical Engineering from New Jersey Institute of Technology (NJIT), and a Bachelor of Science (BS) in Civil/Structural Engineering from Trisakti University, Jakarta, Indonesia. She also has a Texas Professional Engineer (PE) license and is a Certified Project Management Professional (PMP). In her spare time, Liong likes gardening: she grows eggplant, tomatoes, bitter melon, okra and papaya. She also likes driving cross-country!
Liong was born in Indonesia and experienced working as an engineer where woman engineers are highly appreciated, treated equal or even better, as an engineer first and woman second. In the US, woman engineers often experience mistreatment; from  horrible bosses, hostile environments, the old boys club mentality, being intimidated, belittled, or just being treated as though they are just highly-trained technicians. Woman engineers experience back room cronyism seemingly designed to elevate incompetence and keep them down. However, Liong has also found that there are still honest people in construction who respect women engineer.
Women in America continue to battle for equal pay; so Liong believes that understanding how money works is important for our success in our careers and our lives in general. Understanding finances will take you to your American dream, such as owning a house or being debt free, and pave the road to financial independence. She considers it an honor to serve on the Dallas SWE Investment Committee and to be part of this organization that continues to provide scholarships and a bright future to young women in STEM.
I've been a SWE member since I graduated from NJIT (1992). This October I attended the WE17 Conference in Austin, and as always it was a huge conference with many opportunities to meet thousands wonderful women in STEM gathering to get invaluable support, networking and professional development. I always admire smart, talented and energetic women engineers who want to learn, develop and practice their leadership skills to become smart and effective leaders in SWE. SWE is an awesome outreach organization that provides the technical skills and social knowledge to support the success of women leaders through their careers in today's complex global markets. I believe that these smart women engineers contribute to SWE's evolution as a strong women's organization.
~ Liong So