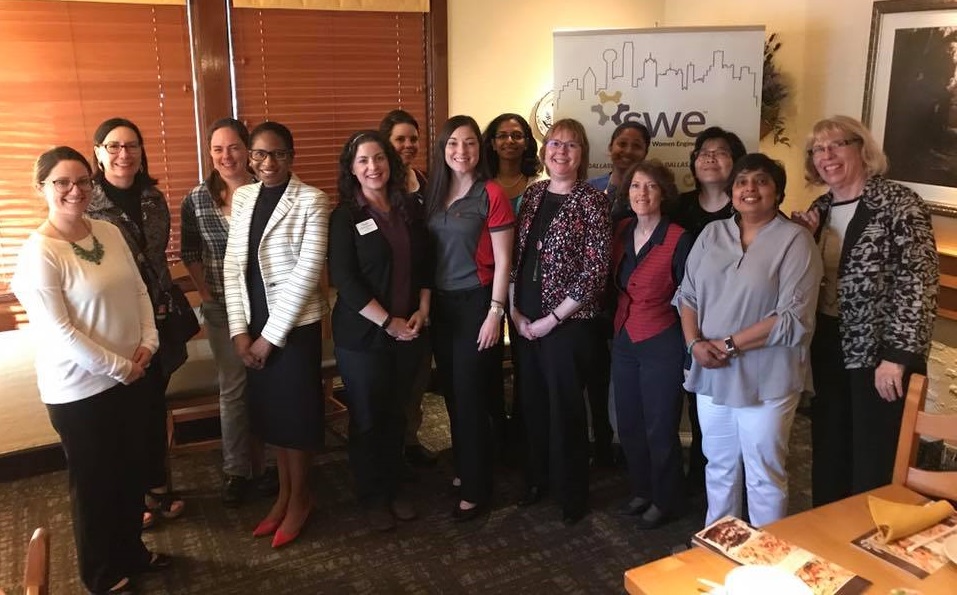 Juanita DeLoach was the guest speaker for the Dallas SWE May Professional Development meeting, May 23, 2017 at Olive Garden in Addison. The event was organized to provide our members and guests with the opportunity to consider alternative careers such as law for engineers.
Juanita first provided insight into the decisions and framework that guided her to pursue her academic, engineering, and law career pathways. Juanita had a Bachelors, Masters, and Doctorate degrees in Electrical Engineering, worked for a few years as an etch and thin-film process engineer with Texas Instruments. At TI, she was the named inventor on 8 patents and published many patent applications. With this experience she pursued another Masters degree in Business and then a Law degree. She provided the details on costs and alternatives she used to pay for her education, compared starting salaries for the various steps in her career, contrasted public, private, and corporate law environments, and explained her current career stage responsibilities as an engineer and patent attorney.
As happens at many Dallas SWE professional development meetings, the atmosphere was mutually supportive and Juanita DeLoach turned from guest speaker into a coach! Members asked questions that related to work life balance and diversity as well as Juanita's intellectual excitement from being a patent attorney. She suggested ways engineers can work in patent law without pursuing a law degree, such as serving as an expert witness. The SWOT analysis of all options was analyzed as she engaged in each conversation. Attendees resonated with her experiences and reflected on ways to develop their own careers through the information she provided.
Finally, Juanita discussed winning one of ten Hidden Figures of Dallas Awards from the National Society of Black Engineers DFW chapter this year! This award was inspired by the 2016 box-office hit film of the same name. Like many women engineers, Juanita was hesitant to nominate herself for the award and skeptical that she would be selected, but her achievements and commitment to her career in engineering and law were recognized by the local diversity organization. We are so glad Juanita shared her story with us! It was clearly a wonderful experience for all attendees and Dallas SWE is grateful for her talk.